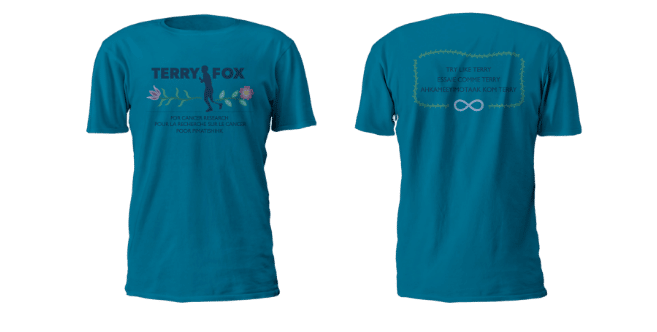 The 2021 merchandise design celebrates Terry's maternal grandmother's heritage – a collaboration between the Fox Family and Metis Nation BC – with traditional Metis floral beading representing the flowers that grow on his ancestors' land. Our mission and message "Try Like Terry" is shared in English, French, and the Metis traditional language Michif. All merchandise sales add to your school's fundraising total, and proceeds support cancer research.
Please compile and enter the total of each size/item into this order form to submit your bulk order.
To help you collect student t-shirt orders, click to download a student order form. Once you have collected your total count sizes, proceed with entering this online order form. 
School Merchandise Order Form
Fields marked with an * are required
School Merchandise Orders FAQs
How do we pay for merchandise orders?
You will be invoiced by email for your merchandise. Payment for the merchandise can be made via mail (cheque), or by credit card (telephone) 1 888 836 9786.
Are my Schools's merchandise sales included in our total fundraising amount?
Yes, the full amount of your merchandise sales is added to your School's total fundraising amount as proceeds from your purchases also support cancer research.
Are there discounts for bulk orders?
No, all prices are firm as listed, regardless of the amount ordered.
Are there any extra costs charged per item?
No, we do not charge for shipping or add any tax. However, we do ask that you try to consolidate multiple orders so that we can save on our shipping costs.
How do I submit my School order?
Simply submit the form above after you have filled in all the applicable fields. Or you can call us directly at 1 888 836-9786 and we'll complete the order for you.
We ordered too much. Can I return some items?
All school merchandise orders are non-returnable and you must pay for every item ordered. The sizing dimensions are listed on this form in each size column to help you order the correct size. 
What percentage of merchandise sales goes to cancer research?
75% of the price of every item sold benefits cancer research.